Rudy's Universe

Constantly Under Construction Since I never know when to stop
This Is my new and improved Webpage!
I'll speak Of anything that comes to my mind here!
I'll Also take suggestions from you!
Just E-Mail me:
Update: 2013-10-04: Wow. This site was first started in 1997.
Over 15 years. Things have changed and this site hasn't. I might do something with this site but for now i'll keep it as it is. Kind of like a Museum piece or something.
By the way the Email below doesn't work anymore. Enjoy! (Sorry about the MIDI!)
Just E-Mail me:
Opposing@hotmail.com
So, Here are my sections so far!
Sign My Guestbook
View My Guestbook
Ranma ½
Links Page
Webrings
Sailor V
---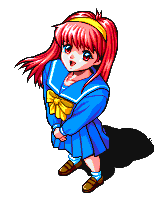 Come Again!